NYA FFA members attend National Convention & Expo
Members of the Norwood Young America FFA chapter made the trek to Indianapolis to take part in the 2021 National FFA Convention and Expo, which took place Oce. 27-30. The event was offered in-person with health and safety precautions after the cancellation of the physical event in 2020.
The Norwood Young America contingent attending the National FFA Convention included Haily Buckentine, Kelsie Harms, Jenna Fanta, Rachel Scott, Ryan Bode, Nik Vinekinmier, Mathiew Traver, along with 2018 alum Samantha Schounbauer and Norwood Young America co-advisor Pat Pehrson.
Minnesota students and supporters who attended the National FFA Convention, including those representing Norwood Young America, found opportunities to connect with other members from throughout the nation, explore college and career options, engage in leadership and personal development experiences, and earn recognition. Our students attended award sessions, visited with agriculture exhibitors in the career expo, listened to motivational speakers, participated in an educational behind the scenes tour at the Ozark Fisheries, Koui and sunfish farm and attended a rodeo.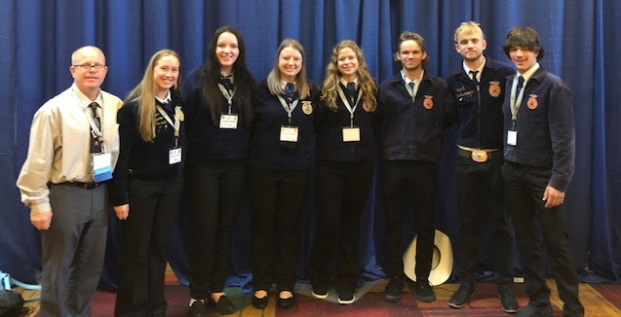 Samantha Schounbauer, a 2018 Norwood Young America graduate, also attended the convention where she was awarded American FFA Degree at the conclusion of the festivities. The American FFA Degree is the highest degree a student can earn as part of their FFA membership. Students invest in work-based agriculture projects throughout their FFA membership and earn the degree after receiving their State FFA degree, holding active FFA membership for at least the last three years, completing secondary instruction in an agricultural education program and operating an outstanding supervised agriculture experience. Community service, leadership abilities and outstanding scholastic achievement are also required.
Samantha Schoenbauer Supervised Agriculture Experience (SAE) project consists of raising high quality show beef. To earn the degree she needed to invest a significant amount of earnings and recorded numerous years of hours of work towards her SAE. Samantha is the only student from Norwood Young America chapter to earn this award since the chapter was chartered in 1947.